HeroPanel_Events_1920pxlsWide_REVISED
EXPLORE THE FARM
Outdoor Adventures
Nature Trails and Walks
We have a variety of beautiful walks and trails around the farm which can be enjoyed in all seasons. Trails range between 500 metres and 3 kilometres – there's something for everyone! Our trails are very easy to follow – simply follow the coloured arrows!
Sheep Racing
Daily Sheep Racing! This takes place near the piggery and is a firm favourite with regular visitors. Come and watch and learn about the four different breeds of sheep which race every day.
Piglet Racing
Daily Piglet Racing – watch the piglets, race around the track after inviting members of the public to come out and have a go at pig herding!
Paddocks and Farm Animals
We are a family working farm and have many varieties of cows, sheep, pigs and goats. (Too many to mention here)! You will find all of these animals around the farm and walks, keep a close eye out for the goats in the gulleys!
Small Animal Handling
Throughout the year we always have a variety of fluffy animals to handle during our Animal Handling Sessions. We have rabbits, guinea pigs, chicks and ducklings. Animal petting sessions are held throughout the day and supervised by one of our members of staff.
We also have a large display of chickens, geese, turkeys and ducks! (These are not so keen on being handled but love to be fed)!
Pony Rides
We have 2 gorgeous ponies, Archie and Milkshake, who like nothing more than to be ridden on by our little visitors. Pony rides take place every day and are available to book in the shop on your arrival at the farm. Children must be at least 2 years old and weigh no more than 6 stone in weight.
The West Lodge Barrel Ride
The Barrel Ride is another favourite on the farm, children love the double circuit of the outdoor play area and being driven past Donald the Sleepy Dragon! The barrel ride runs every hour and is free to everyone. You can go on as many times as you like!
Adventure Golf
A stunning new 9 hole adventure golf course. Farm themed with many farm artefacts and a stream running through it's centre. A huge hit for the whole family , from grandparents to toddlers. *just £2 per person, under 3's are free
Adventure Playground
Built in 2022 our new Adventure play area has something for everyone! Huge slides for the bigger children and dedicated sand pits and smaller climbing equipment for younger children. The retro 5 seater swing is a must for the whole family!
Ride on Tractor Park
For the future farmers in your family! We have a lovely, big, safety surfaced tractor park with a large variety of ride on tractors – suitable from toddlers upwards!
Indoor Adventures
The Old Grain Adventure Barn
Leading the way in Timber Play we designed our indoor adventure barn on the farm itself and the adventures that Farmer Ed enjoyed as a child! At it's centre the Adventure Barn houses an Oak tree with bridges, tunnels, climbing wall and slides to keep your children amused for hours. There is also a designated fenced off area for pre walkers with an interactive "pond" (lights, not water) and minature climbing house with slide.
SOCKS MUST be worn in the adventure play area and sessions must be pre booked on entry to the farm.
The Indoor Adventure Barn has a café which serves hot and cold food and drinks throughout the day. It is also home to all of our birthday parties ( for more information please visit out parties page)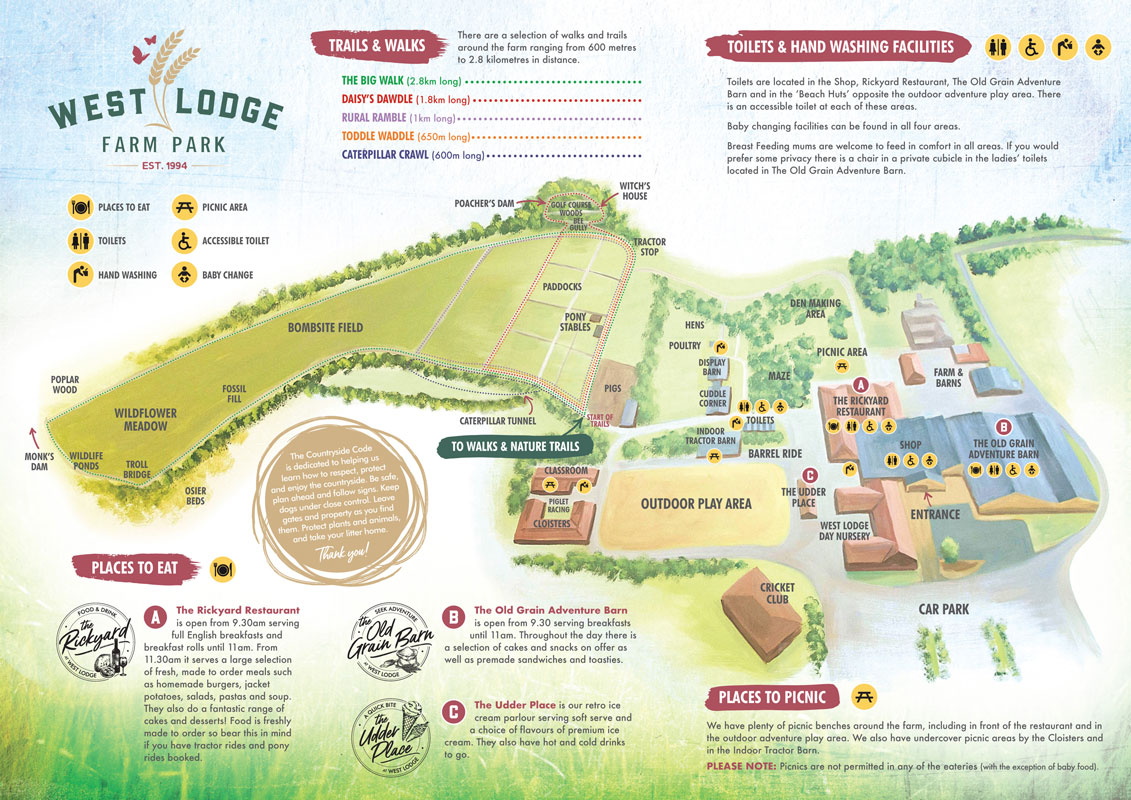 **Please note, whilst the map remains the same, the opening times of the different eateries will vary depending on the time of year you visit.