HeroPanel_Events_1920pxlsWide_REVISED
MAPS & TRAILS
We have many walks and trails around the farm which are abundant with flora and fauna and buzzing with lots of different wildlife. Walks will also take you past many of our larger farm animals such as the highland cattle and other rare breeds. We move our animals around throughout the year so we always recommend doing the walks throughout the seasons, you will see something different every time.
Feel free to walk wherever you want to (as long as you don't go through closed off areas). For those who need the security of knowing exactly where and how far you are going we have 5 different, colour coded trails for you to follow:
CATERPILLAR CRAWL – 600 metres
Follow the signs for Charlie the Caterpillar on the shortest of our trails. This trail takes you down some steps and through leafy tunnel then back to the farm by the paddocks.
TODDLE WADDLE – 650 metres
A lovely little walk following the signs for Bertie the Bee. This short walk takes you around the paddocks and past the pony stables, finishing next to the piggery.
DAISY'S DAWDLE – 1.8 kilometres
A very pretty walk following Lydia the ladybird. This walk takes you down some steps through to the Fairy Dell – look out for the fairy houses along the way. You will eventually come to Daisy the Witch's house which is a pretty little folly in the middle of the woods – a perfect spot to have a picnic. Your route back will take you past the pony paddocks and rare breeds paddocks.
RURAL RAMBLE – 1 kilometre

Follow Betty the Butterfly on a rural ramble. A slightly longer version of the Toddle Waddle this trail takes you past the rare breed paddocks and along some pretty hedgerows – don't forget to look in the hedgerows to see what wildlife is living there!
THE BIG WALK – 2.8 kilometres

A lovely long walk around the farm which can be extended off the beaten track if you are feeling adventurous. Following the signs for Colin the Cricket you will pass the rare breed paddocks, the bombsite field where crops are grown throughout the year and the wildflower meadow which is brimming with butterflies at particular times of the year. On this walk be sure and listen out for birdsong of which there is loads! Take a picnic with you and enjoy the peace and quiet in one of the many tranquil areas of the farm.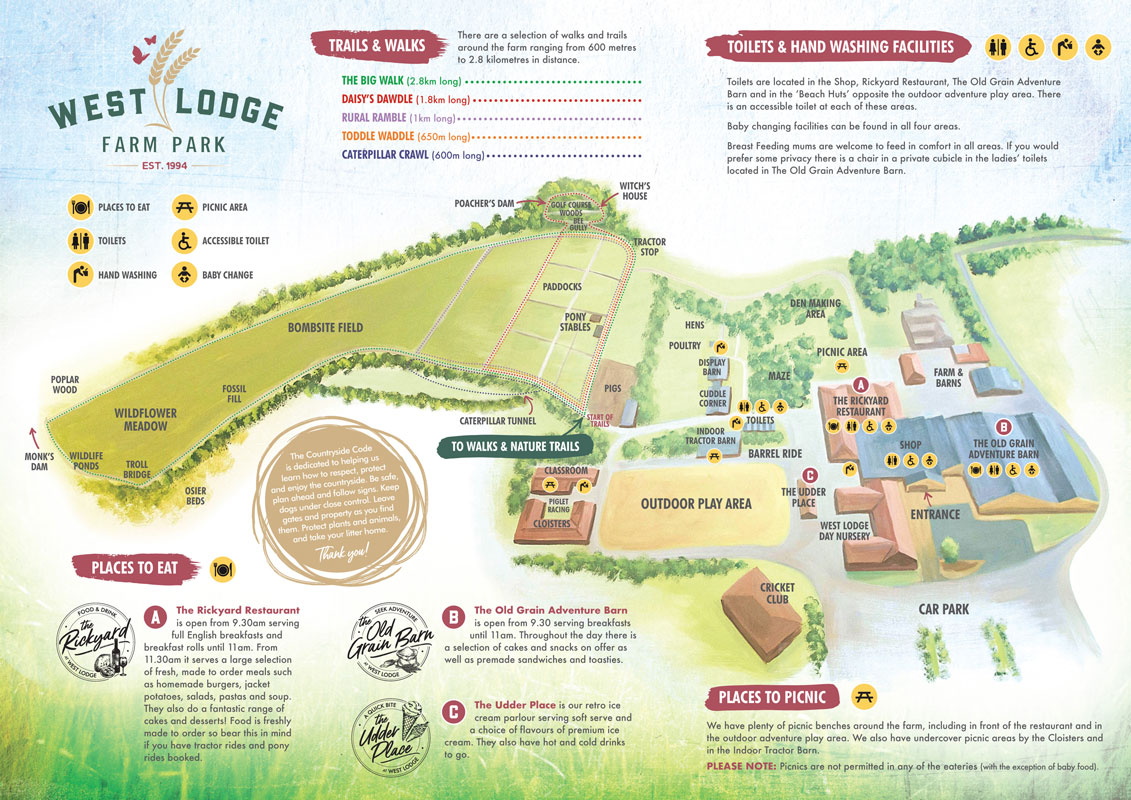 **Please note, whilst the map remains the same, the opening times of the different eateries will vary depending on the time of year you visit.